Many clients come to my store and ask when is the best time to sell gold? The answer is simple – when you want to convert your gold 4 cash. That in essence is what selling your gold is – an exchange of 2 different forms of currency.
Many people think that the United States is on the "gold standard." That basically means that the value of our currency is backed by gold. We are not on the gold standard and have not been for some time.
Still, gold does have a value and that value goes up and down on a daily basis. As such, there may be a "best" time to sell gold – when the value is highest.
Here is a chart from goldprice.org that shows the price of gold over the past 2 months: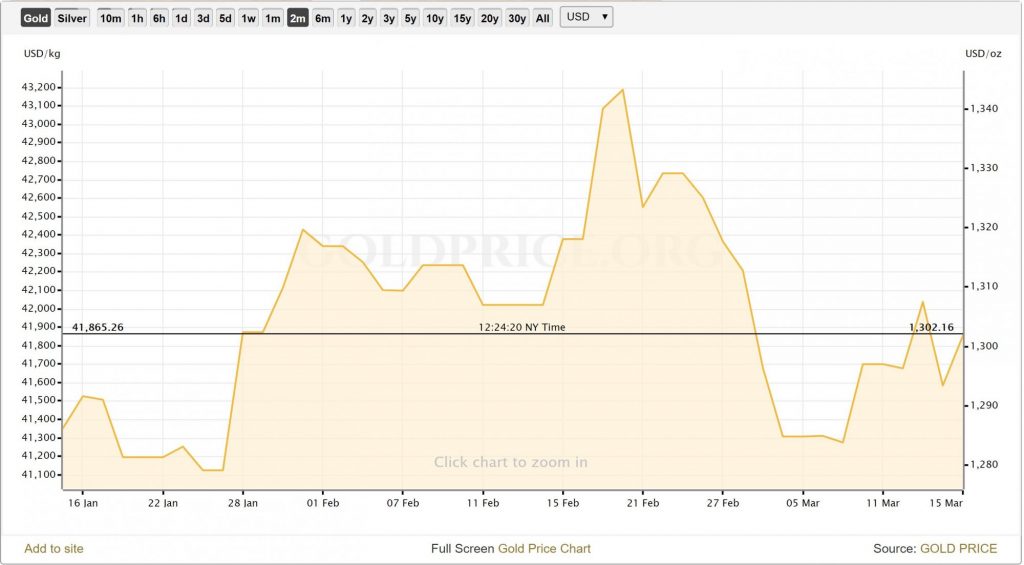 As you can see, the price has fluctuated in the past 2 months from a low of around $1,280 to a high of over $1,340.
What is the old adage?
"Buy low and sell high"
The issue that a lot of my clients have is they try to game the system. They're very concerned that if they sell their gold today, the value will increase tomorrow and they will have "lost" money. Truth of the matter, is that gold is a commodity and the price is going to change by the minute and hour let alone day.
My suggestion for you is to focus on the big picture. If the value of gold is high, you may want to sell it. If the value of gold in general is hovering lower, you may want to wait to sell it.
There are a lot of other factors that you may want to consider when determining when is the best time to sell gold. These include, among other things, the present value of money etc. etc. These factors are complex and more suited toward people buying, selling and trading gold. For most of my clients these simply aren't relevant factors. Rather, they focus on the current value of gold.
How do we arrive at the value of your gold?
We discussed how we evaluate the value of your gold in a prior blog article. The easiest thing to do though is to bring your gold to us so that we can assess it in person. It's nearly impossible for us to give you a value over the phone.
Mills Jewelers & Loan is the best place to sell your gold in Ventura County. We have purchased gold from hundreds of clients over our 30 plus years in Camarillo.
If you want to sell your gold, bring it in to my shop. We will evaluate and weigh your gold and come up with a fair value for the gold. We pay cash 4 gold so there is no waiting. We can make you an offer on the spot. You can sell gold jewelry, bullion, silver, platinum and other valuables as well.
And if you want to pawn your gold jewelry, bring that to us as well.